I didn't get into photography only because I love the medium, but also because it is the perfect mode through which one can explore the world. I got into photography because I love life, and people, love, and friendship, and the unique and powerful relationships that can come from two people. When I first met Carin and Patrick in Wired Cafe in Bethlehem, I remember listening to Patrick recant every detail about how much planning went into leading Carin after her work day to the patio behind their Hoboken apartment where he was waiting with flowers and candles to ask her to marry him, and seeing Carin hanging on every word, reliving each moment with every word he passionately spoke. I remember listening to each of them talk excitedly about every detail of their wedding and how incredibly anxious they were for their day to arrive. As I got to know them through our multiple Skype meetings, phone calls, during their engagement session (see that here), I found that they are the most beautiful and genuine people through and through.
Carin is so sweet! She has this lively, high-spirited nature about her. She laughs hard, and smiles a lot, it's impossible to be in poor spirits around her. One of my favorite photographs of her from their day is the fourth photo below. A black and white image of her looking at her bridesmaids reaction to the bracelet Patrick gave to her as her wedding gift (it was quite a lovely bracelet!) She's smitten with the thought of Patrick, smiling from ear to ear, blushing and a little bashful. You can almost hear the "Aww's" from her bridesmaids!
Patrick is a man's man. He loves Carin with all his heart, is playful with her, and without hesitation would do anything for her. He gives you his full attention and listens when you are talking, and would lend a helping hand in a heartbeat (just like when he ran out to hop in my car because I spend 30 minutes trying to find parking in Hoboken for their engagement!). He is close to his family, loyal to his friends (as you can tell by the 9 groomsmen he has!), and is a great dancer! Hah! He is full of integrity, and is a genuine stand-up guy.
Their day was perfect! Carin admittedly had some jitters in the beginning of their day while getting ready, but I think those were all wiped clean and soon forgotten when she walked down the aisle at Holy Ghost Church in Bethlehem and laid eyes on Patrick for the first time. The rest of the day was a blur for me. Wedding days always go by so fast! My favorite parts of any wedding day is always the creative portrait time I have with any couple, and the reception, but I would have to say that my favorite moment from their day was their introduction into their reception. Carin was smiling from ear to ear looking looking at her new husband as they stood there holding hands about to enter. As the thunderous cacophony of whistles, cheers, applause and shouts from their guests burst out at their announcement, Patrick lowered his head, taking it all in, and threw their hands up into the air pushing Carin just ahead of him. It was pure joy in that moment, and unusually power to witness. Make sure you take a second to look at the photo from their introduction- it's so great!
To Carin and Patrick: What a wild ride! Thank you so much for being so friendly, and so welcoming. It was a pleasure to spend your day with you. I am so happy I was able to create great photos for you, but even more happy to gain you both as friends!
I think Carin's dad wanted to be part of the action!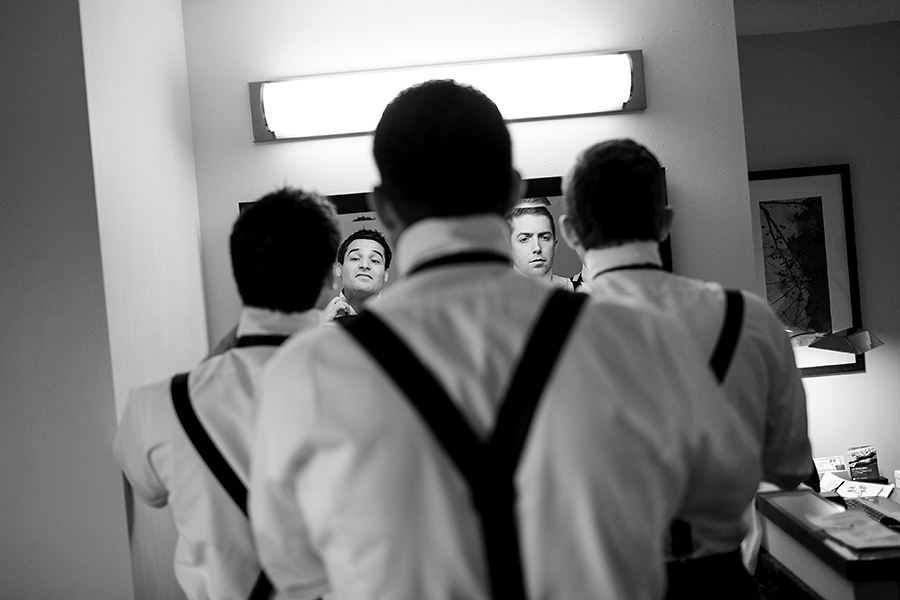 Thank you so much for looking!
Dan