Hi everyone!  Dan was kind enough to let recap my wedding day, so here I am to tell you all about it.
After about three months of researching photographers, Joe and I finally got a chance to meet with Dan.  Even if the guys hadn't worn almost identical outfits, Joe and I knew straight away that Dan was the right photographer for the job.  We emailed often in the run up to the big day, and a few weeks before we met one last time to go over the little details. 
Ten days before our wedding, I checked the forecast and saw that there was a pretty strong possibility of rain. In an attempt to be proactive, Joe and I hunted around for some golf umbrellas that would be cute in the photos.  I went back to wrapping up all of the tiny details and didn't think much of the forecast since these things tend to change at the last minute. 
And change it did.  Joe and I were married on October 29th.  And for those of you who remember, the day of a freak Fall snowstorm.
When I woke up, it was grey and rainy.  I knew I could handle that because we already had our golf umbrellas and I had my trusty green rain boots.  Sometime later, the rain had changed to snow.  After all of effort I put into the day – making the escort cards, menus, card box, etc. – you'd think that I would be freaking out (brides are always portrayed that way in movies). But for some reason, I didn't.  I actually started to laugh because, let's face it, what are the odds of snow in October?
When the girls and I were finished getting ready, we hopped into the limos (all of which backed into my parents' garage so our dresses wouldn't be ruined) and drove to the church.  This was the only time I was nervous since the roads were so obviously terrible.  Thankfully, we arrived at the church safely.  As I got out of the car and walked toward the main entrance with my dad and the limo driver, I started laughing.  With everything going on, I had completely forgotten we hired a trumpeter (in his traditional garb) for the ceremony.
It was a beautiful ceremony and when everyone was receiving Communion, Joe leaned over to me and told me that the venue had lost power.  My response was a simple "Eh, we'll figure it out".  After the mass, Joe's dad called our reception site, Twin Brooks Country Club, and found out that they had regained power.  We let all of our guests know that the party was still on (to cheers in the church) and after some portraits hopped in the limos to go celebrate.
On the way, we found out that the venue lost power again.  Since we were only about five minutes away, Joe and I decided to scope out the scene and cross our fingers for the power returning.
It didn't.  Chris, our amazing events manager at Twin Brooks Country Club, offered us two options – to celebrate that night (to piano music and candlelight) or have our reception the following afternoon.  Neither of us wanted to risk our guests braving the terrible road conditions from the hotel, and Dan, our deejay, and limos were all available the following day.  It was a pretty easy decision to move the party to 
Sunday.
(I, Dan, am just going to quick interject that the drive from Twin Brooks to the hotel was the scariest driving I have encountered. Ever. And I photographed the whole thing.)
While Joe and I drove back to the hotel to check in, we let our guests know that the party was being postponed until the next day.  Thankfully, our wonderful friends and family members all got together and organized an impromptu dinner for just about everyone staying at the hotel.  Maggiano's (located across the street from our hotel in the only part of town with electricity) was ready and able to accommodate more about 70 of us. After quickly changing in the hotel room (me in my regular clothes and headband, Joe sans jacket), we all braved the ice and snow to enjoy one of the most memorable meals of our lives. It was a truly wonderful experience being able to sit down and talk with our guests on such a strangely exhilarating night.  After dinner, a decent-sized crowd hung out at the hotel's bar where we enjoyed a much needed drink. Finally, we crashed for the night.
At 7:00AM the following morning, Chris called to let us know that the venue had regained power. The sun was shining off the new snow that had fallen the previous day (it was weird to see snow on trees that had red and yellow leaves), and the highways looked clear from our hotel room. We passed the message along that the party was on, and I started to get ready…again.  My friend Katie let me borrow her curling iron so my sister could redo my hair and my mom helped me once again with my make-up.  Joe was tasked with re-buttoning my dress (I still find this hysterical).
We arrived at the venue to find out that they had lost power once again, except for a single outlet outside.  We had seen a lot of the damage on the drive over – trees fallen, downed lines, live wires, so this wasn't exactly a surprise.  Thankfully, the sun reflecting off the snow made the room beautifully bright and the one outlet was plenty for our deejay (all we needed to do was run an extension cord).
I might be a bit biased what with me being the bride and all, but it was definitely the best wedding I have ever been to.  And to hear our guests, it was by far their most memorable.  Not only did we get a chance to spend two wild days with all of our closest friends and family, but the mood at the reception hall was joyous.  Dan captured some great pictures of Joe and I in the snow (pictures we wouldn't have gotten if we had the reception the night before) to go along with all of the other amazing pictures from the previous day. It may sound a bit strange after such an improbable string of events, but in the end we were incredibly lucky.
Wedding Dress: Always Elegant Bridal (Flemington, NJ)

Designer: Enzoani Blue
Bridesmaid's Dresses: Always A Bridesmaid (Staten Island, NY)
Designer: Bill Levkoff
Tuxes: Men's Warehouse
Groom's Tie: Macy's
Shoes: Nine West
Jewelry: Earrings from Cheline (via Amazon)
Venue: Twin Brooks Country Club (Watchung, NJ)
Hair Stylist: Kim at Expert Makeup Artistry
Florist: Camille at Floral Sentiment
DJ: Platinum Entertainment (Staten Island, NY)
Limos: A1 Limousine (Princeton, NJ)
My something old was the lace of her mother's veil wrapped around my bouquet, my something blue was one of my grandmother's earrings clipped onto the bouquet, and my aunt had gotten a sixpence from a friend on a trip to England. 
Haha I love this set-up- mirror on a Toasteds box!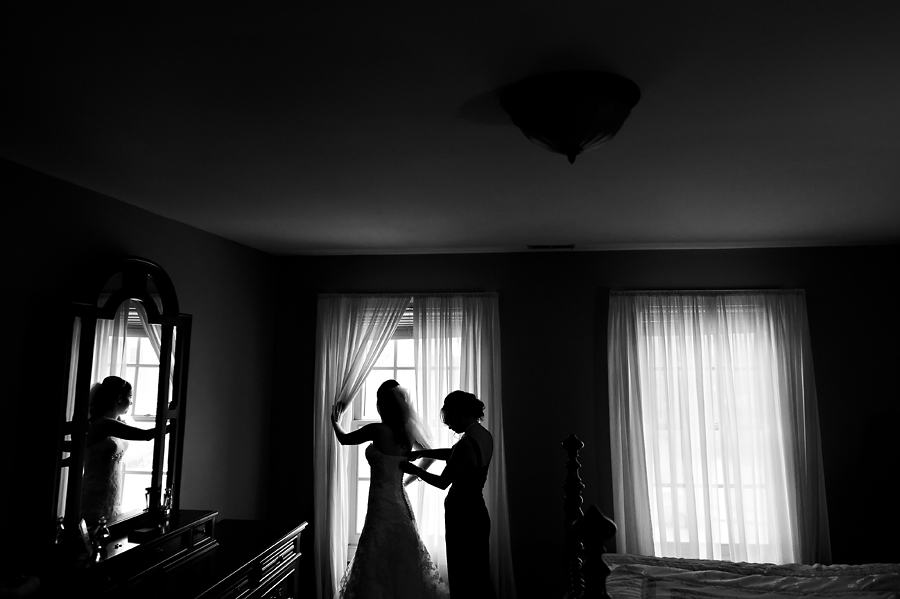 Seeing Kristen in her dress for the first time!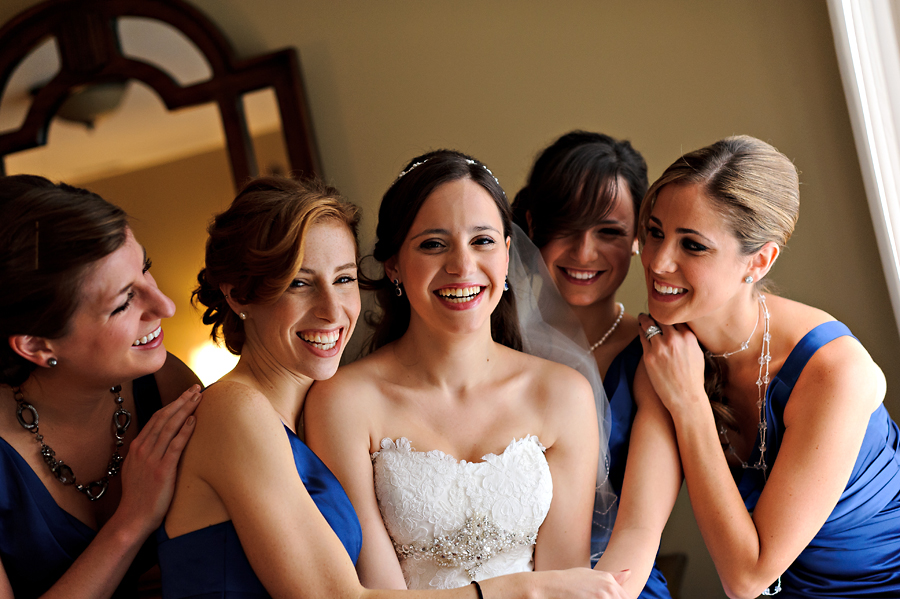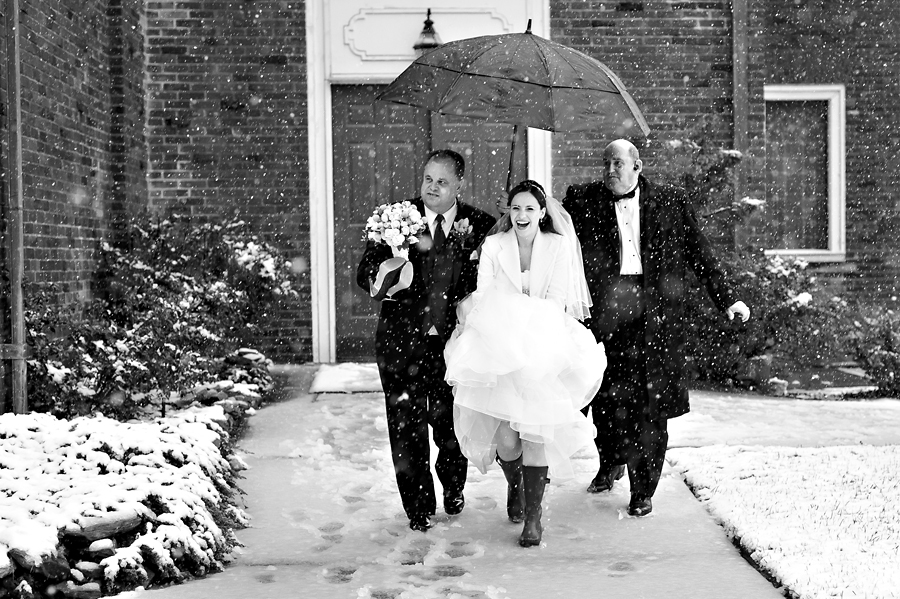 Kristen's dad absolutely knew he was giving his little girl away. He fought back tears the whole way up the aisle.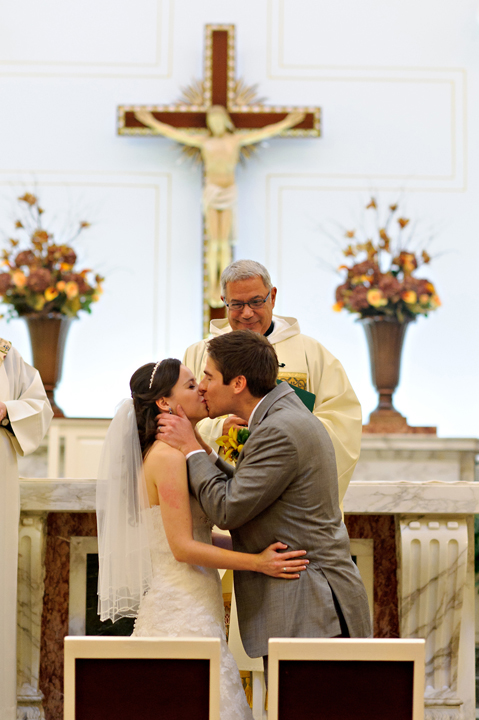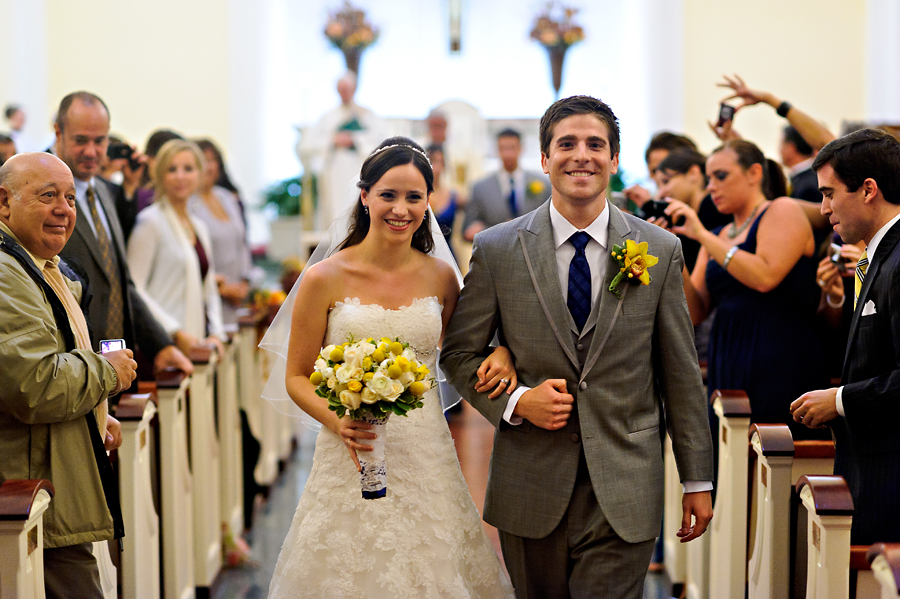 It took us 40 minutes to get from the church to Twin Brooks while trying to navigate around closed road after closed road leading up to it. The entire place was black with a few lights and candles.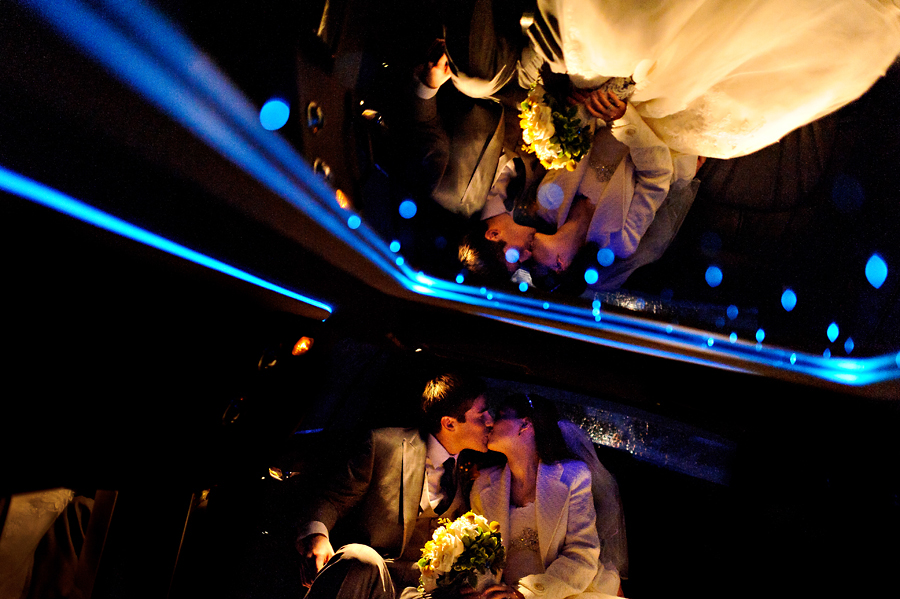 These next three images are just a small part of the terror of driving down the side of a mountain on closed roads following the limos. There were 2 limos, then my car, then a few more cars behind me. As we drove and came across closed road signs, we eventually hit a dead end with a closed road sign in front of us. There was no way possible for the limos to turn around with the cars behind them on a mountain road. Out of nowhere a car came from the other direction through the closed road sign. You can see in the second image going through the blocked roadway barriers. There were so many broken trees on the road. The branches scratched our car roofs- hanging low from the intense weight of the snow.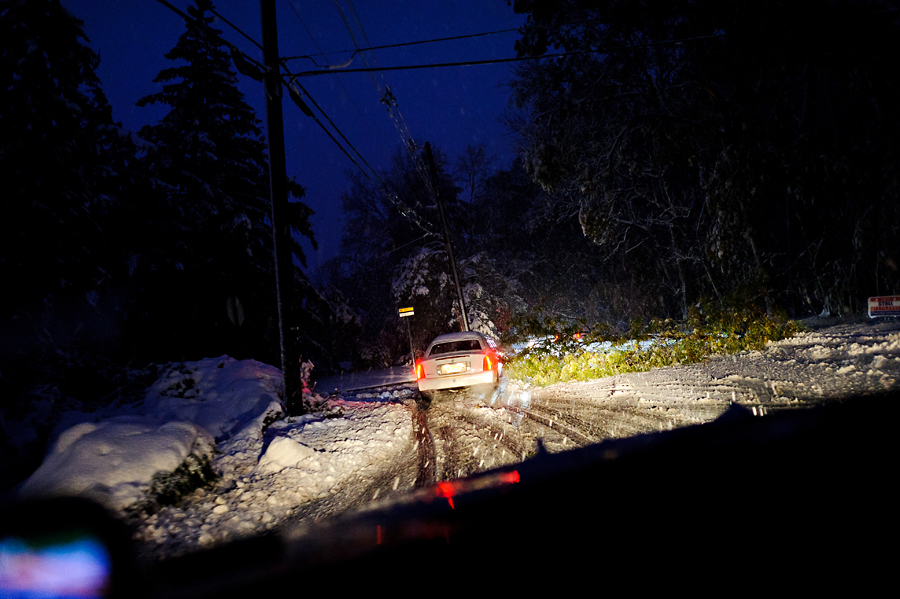 Sunday afternoon…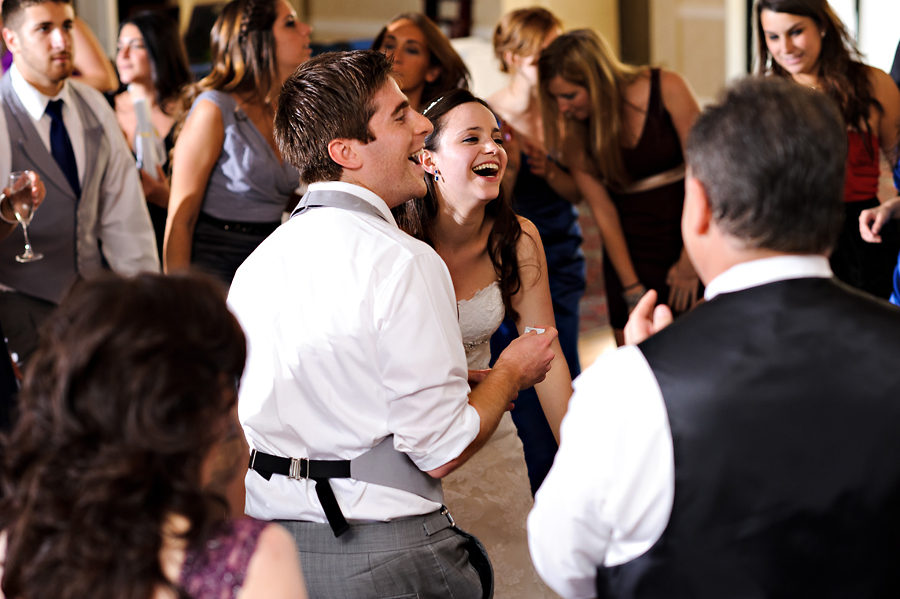 Thanks for looking!
-Dan