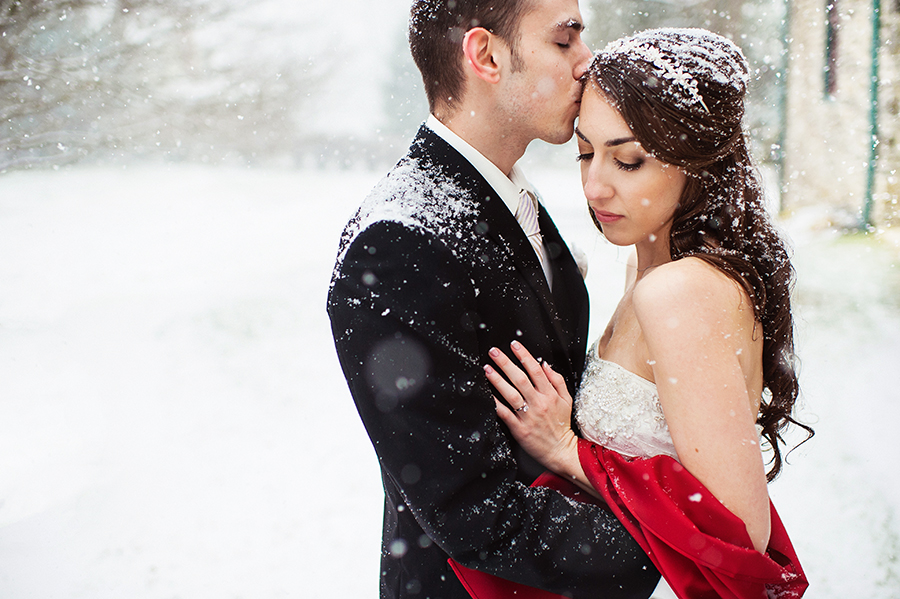 I think everyone secretly hopes for snow when they choose a Winter month for their wedding. A crisp chill in the air, a blanket of fresh pure white snow, twinkling lights – what's not to love?! I know that excitement was true for Kelly and Scott! With certain snow in the forecast, they couldn't have been more excited, and I was right there with them!
Their reveal was like a scene from a movie. Old Man Winter began dumping snow hours early. As Kelly walked toward Scott behind the frozen-in-time Knowlton Mansion, she popped in her bright red shawl in an otherwise bleak landscape. It's quiet, except for the faint hint of each snowflake coming rest against the others. I can hear the crunch of the snow under my feet as a step to the right for a better composition. I'm positive when they finally embraced and kissed as the snow settled around them, time actually froze.
Despite the forecast and less than ideal driving conditions, all of their guests arrived safely and ready for a party! Even as plans adapted and changed for the weather, nothing could break the spirits of Kelly, Scott, and their family and friends. Chilly temperatures were forgotten in warm hugs from old friends and the intimate little ceremony in the glass side terrace, gave way to the thumping sounds and vibrant colored lights of an all out celebration!